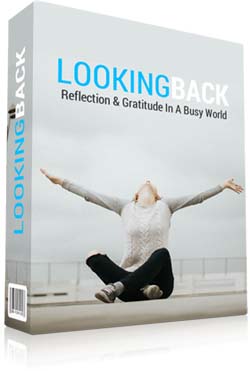 Great news, the guys over at "Tools For Motivation" have just launched their latest self-help PLR mega-pack and I just HAD to share this one with you...

For this week only, you can grab a license of the "LOOKING BACK – The Power Of Reflection And Gratitude" PLR pack for $100 OFF before they make it publicly available in their store next weekend.

"Looking Back" is a done-for-you personal development digital product that will help you teach your audience about the powerful health and mental wellness benefits of taking time daily to reflect and experience gratitude.

You can use this content to inspire your readers to:

a) Recognize the importance of slowing down to do self-reflection
b) Create a daily routine to reflect and experience gratitude
c) Evaluate how their gratitude routine is impacting their happiness
d) To stay connected to this state as often as possible

Since it's PLR, you are free to use any parts of the content to present it in a different form, be it a new e-book, video, podcast, article, infographics etc. and it will stay relevant both now AND in the future.

Thanks for checking it out. I hope you like it.